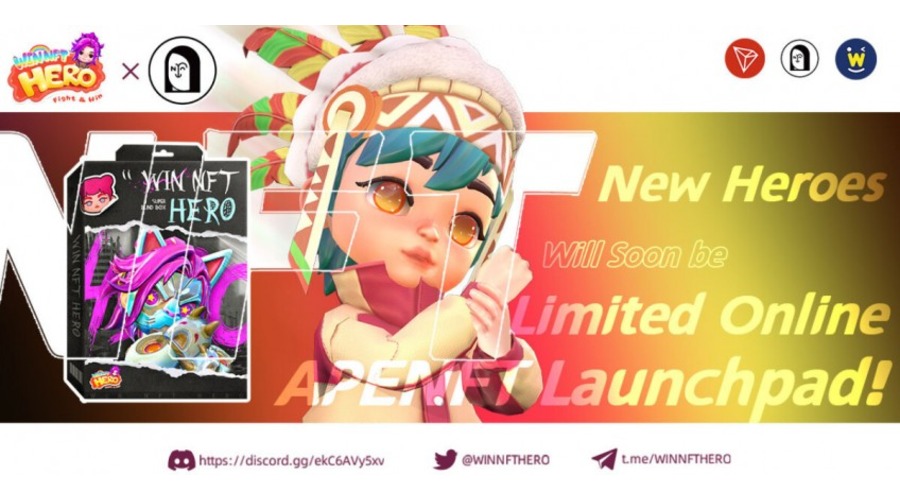 WIN NFT HERO Set to Launch Limited Edition Mystery Boxes on APENFT Launchpad
TRON's successful strategy game, WIN NFT HERO, is on a roll. Following the April launch of its version 2.0 and the hero system, the game has soared in popularity. This progression led to the recent announcement of the v2.1 open beta test, kicking off on June 1.
🔥WIN NFT HERO v2.1 open beta test has been officially launched, and the S1 Million Dollar season is about to kick off.

🥳To celebrate the upcoming S1 season and help players achieve better scores, WIN NFT HERO will go live on @apenftorg #Launchpad on June 16, 2023 and launch… pic.twitter.com/OYPIKzQ767

— WIN NFT HERO (@winnfthero) June 9, 2023
S1 Million Dollar Season Event Unveiled
The game developers unveiled that the upcoming S1 Million Dollar Season event will be launched on June 16. The season will host a PvP points tournament. Participation is open to players owning any 3 heroes of quality N or higher. The rewards are impressive. Among them are $NFT, $WIN, WNH, and sought-after NFT rewards, promising a season worth over a million dollars.
Diversity of Heroes and Strategic Advantage
In this game, hero NFTs come in five different qualities. These are N (green), R (blue), SR (purple), SSR (orange), and UR (red). Players can choose from 58 heroes in 11 lineups. With 19 new heroes added in version 2.0, players are provided with more strategic combinations and matchmaking advantages.
Exclusive Win NFT Hero Mystery Box Launch
In celebration of the upcoming S1 season, WIN NFT HERO will launch the new heroes mystery box sale on APENFT Launchpad on June 16. The limited offer consists of 200 Hero Mystery Boxes, each priced at $10. These mystery boxes will include 5 new heroes: Vitalik Buterin (R), NFT (R), Elon Musk (SR), Saturn (SR), and Kobe (SSR).
The scarcity of these new heroes within the game ecosystem makes this limited edition mystery box a valuable opportunity for players, especially as the S1 million dollar season looms. WIN NFT HERO is more than a game. As a "GameFi+NFT" strategy game built on the TRON public chain, it leverages blockchain technology to offer players a world of economic prosperity and an unprecedented entertainment experience.
Also Read: Reddit's Digital Collectibles Welcome 10 Million Newcomers to Crypto and NFT Universe