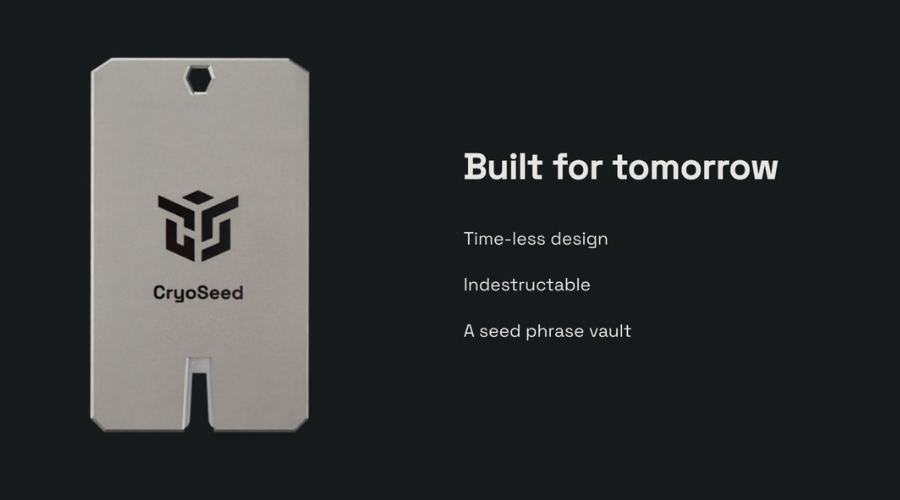 CryoSeed's Cold Wallet Backup: A Time Capsule for Your Seed Phrase
April 10, 2023
0 Comments
In today's digital world, the security of one's financial assets is of utmost importance. With the increasing number of cyber-attacks and data breaches, it is imperative that we take necessary measures to protect our valuable assets from falling into the wrong hands.
Hardware wallets are uniquely positioned to provide a secure and reliable way to hold and manage digital assets without counterparty risk. However, a hardware wallet is only as secure as one's personal backup and recovery plan. Hardware failure and other accidents are not uncommon and can lead to total loss of funds in the absence of a reliable backup.
This is where 'CryoSeed – Genesis' comes into play. Featuring a sleek design and novel security features, CryoSeed's metal seed phrase recovery solution is becoming the go-to choice for cryptocurrency enthusiasts who value security, reliability and aesthetics.
What is CryoSeed?
CryoSeed is a Berlin-based company that designs seed phrase recovery solutions designed to provide maximum durability for your digital keys. CryoSeed's design team has expertly blended form and function to create a beautiful, timeless artifact that can withstand nearly any environmental conditions. Beyond the elegant design, CryoSeed – Genesis empowers you with a self-sovereign wallet backup and recovery tool.
Gone are the days of scribbling your seed phrase on a flimsy piece of paper that can easily be lost, torn, or stolen. CryoSeed – Gensis encodes your seed phrase into a set of points, which a user then stamps into the inner surface of the marine steel plates. These plates can be locked with any key or combination lock, making it nearly impossible for anyone to access your seed phrase without your permission.
But CryoSeed isn't just secure – it's also incredibly durable. This seed phrase vault can endure extreme temperatures, is waterproof, and is corrosion-resistant, so you can be confident that your seed phrase will stay safe no matter what.
How CryoSeed Works
CryoSeed has a unique and effective approach to securing your seed phrase. When you purchase a CryoSeed vault, you receive marine-grade steel plates that can be encoded with a set of 12 to 24 combinations.
Using the punch tool provided with the purchase, users can stamp their seed phrase onto the steel plates using an industry-standard BIP 39-word list to convert the phrase into numbers. These numbers will then be permanently marked onto the steel surface using a simple encoding scheme.
To ensure maximum security, simply lock the steel Genesis plates together with a key or combination lock with a diameter of 6mm (0.23in) or less. As CryoSeed does not include a lock with your purchase, you can use any compatible lock of your choosing.
Once you're done, make sure to run a recovery on the converted copy by converting all the dots into numbers and then converting those numbers back to words. This will prevent errors from being introduced.
With the CryoSeed system, users can rest assured that their valuable assets are protected and stored in a secure and reliable manner.
Built for the Future
CryoSeed – Gensis is more than just a means of safeguarding your cryptocurrency – it's a timeless work of art. Made to endure the test of time, it's crafted from marine steel, rendering it impervious to rust and environmental wear and tear. This device is as robust and durable as it is stylish, thanks to precision CNC manufacturing that ensures its accuracy and attention to detail.
Weighing only 0.24kg, it's lightweight and compact, measuring 64 x 110mm with a thickness of 4mm. A CryoSeed – Genesis wallet backup can withstand temperatures up to 1400°C and remains recoverable even in the unlikely event of warping due to intense heat. With this wallet backup, your seed words are always safe and secure.
The Future of Seed Phrase Backups
Physical security plays a crucial role in protecting digital assets, and CryoSeed offers an innovative solution to this challenge. With customizable lock options and a unique encoding scheme, CryoSeed provides unparalleled security. A CryoSeed backup can be stored in a bank vault or buried in the ground, crucially, the location and existence should be a tightly guarded secret.
The importance of backing up a seed phrase cannot be overstated, and CryoSeed – Gensis offers a more secure alternative to traditional paper or unlockable backups. By replacing paper with lockable marine steel, CryoSeed ensures that your legacy endures the arrow of time, withstanding extreme conditions and resisting corrosion.
Invest in Security
CryoSeed Genesis
Price: $59
Your digital assets are valuable, and protecting them should be a top priority. With CryoSeed's Genesis backup plates, you can ensure that your seed phrase backup is both secure and durable. Made from marine steel, this seed vault is designed to withstand the arrow of time, ensuring your assets are recoverable for centuries to come.
Compatible with all BIP-39 wallets and capable of securing up to 24 words, the Genesis backup tool provides a simple and effective solution for backing up your crypto wallet. Simply use the punch tool to permanently mark your seed phrase onto the metal plates. Rest easy knowing your assets are protected against hardware wallet failure.
CryoSeed Taylor Series (Limited Edition)
Price: $69
For those who crave something a little extra, CryoSeed's Taylor Series offers a limited-edition version of Genesis with artwork (108 designs) lasered onto the back side. Designed in collaboration with a futurist tattoo artist from Berlin, each Taylor Series CryoSeed features a lasered artwork unique to each backup that will allow you to recognize your personal backup without unlocking it.
Like Genesis, the Taylor Series backup is compatible with BIP-39 wallets and capable of securing up to 24 words. Made from the same durable marine steel as Genesis, CryoSeed – Taylor Series offers a unique and eye-catching design that's perfect for the crypto OG who wants a unique and timeless backup artifact.
Final Words
As people become more aware of the importance of self-custody wallets, the need for the safe storing of seed phrases increases. CryoSeed offers a unique solution and unparalleled security, making it the perfect choice for those who want to take control of their digital assets.
So why wait? Invest in a CryoSeed backup today and rest easy knowing your assets are safe and secure.