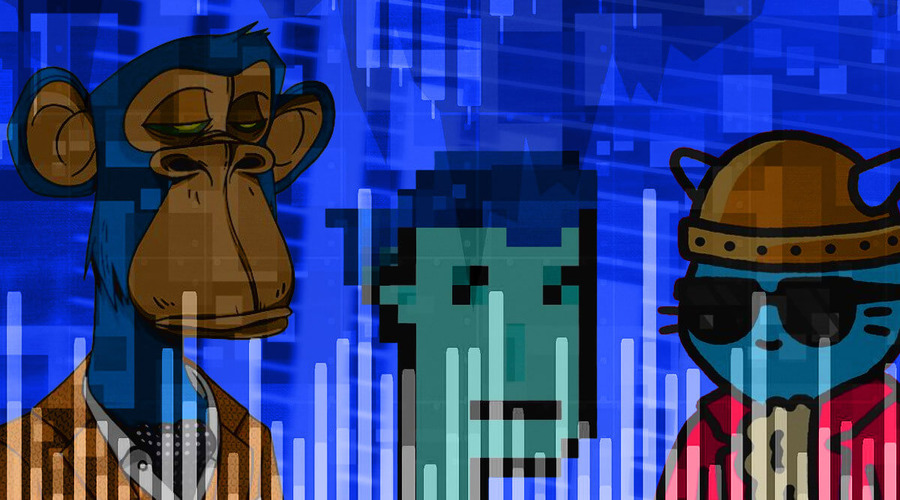 2022 NFT Titans Stumble as Floor Prices Slide
Several prominent non-fungible token (NFT) collections are navigating rough seas this year, with their floor prices seeing considerable drops. Despite the thriving crypto markets, which expanded by 40% since the start of the year, NFTs have been unable to replicate this bullish trend, with notable collections from 2022 facing significant challenges.
'HashBastards NFTs' disclosed a notable dip in the floor prices of esteemed NFTs on May 22. Among these, 'Doodles,' a community-backed collectibles initiative showcasing 9,999 pieces by "Burnt Toast," witnessed a shocking 90% drop in floor prices, plummeting from a solid 23 ETH to a meager 2.3 ETH.
Moonbirds, Goblintown, and Invisible Friends Struggle
A similar decline was seen in the 'Moonbirds' collection, which slipped a striking 94%, from an original 32 ETH to a lowly 2.1 ETH. This fall was mirrored by a decrease in the sales volume, from a towering $484 million at the initial launch to a paltry $3.1 million last month.
'Goblintown,' another NFT collection, was no exception to this downward trend. The collection's floor price declined substantially from 6 ETH to a minuscule 0.27 ETH, with the sales volume dipping a staggering 99%. 
The Invisible Friends collection isn't faring any better. This collection saw its floor prices topple by 85% from 8 ETH to just 1.15 ETH. Their sales volume shrunk from $68 million to just $847,266 within the same period.
Overall NFT Market Faces Downturn
CryptoSlam data showed an 84% decline in the overall NFT sales volume between April 2022 and April 2023. During this period, sellers have unloaded a substantial number of NFTs on the Blur marketplace, which includes 350 Doodles and 190 MAYC.
Despite the overall downturn, the Bored Ape Yacht Club maintains its position as the leading collection, boasting $43 million in sales over the past month, according to Cryptoslam.
In conclusion, the NFT market has undeniably faced a challenging phase, with the overall sales volume dipping by 84% from April 2022 to April 2023, as per CryptoSlam. Despite these circumstances, it will be intriguing to observe how the NFT landscape evolves in the coming months.
Also Read: OKX Pioneers AI-Driven Profile Picture NFTs, Initiates BTC Machine NFT Airdrop