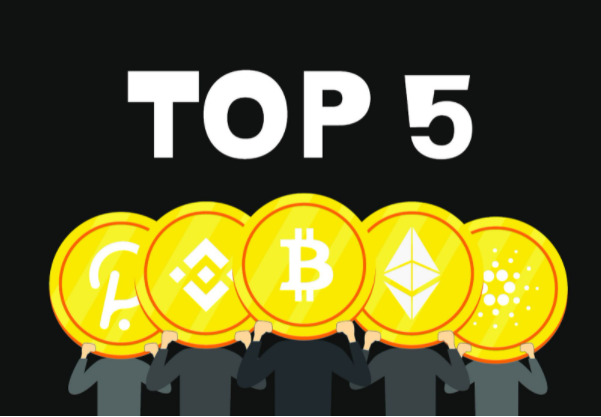 Top 5 Blockchains For 2022
February 23, 2022
0 Comments
Meta Title: Top 5 Blockchains For 2022
Meta Description: Blockchain technology is one of the most trending technologies of 2022.  Learn about the top 5 blockchains for 2022.
Alt Text: Top 5 Blockchains
Blockchain technology is one of the most trending technologies of 2022. The blockchain market is poised to reach around 67.4% by 2026 with a growth rate of approx 69% CAGR. Blockchain is not just fueling the crypto market but is also being leveraged across many various industries like automobile, healthcare, manufacturing, and retail. This year's Forbes list of blockchain innovations includes various interesting use cases of blockchain, like:
The NFT feature of Adobe's photoshop to secure the IP rights of creators.
Allianz, a global insurance company, streamlining insurance claims with a Hyperledger-based platform.
AntChain, a secure data sharing and collaboration platform that simplifies and streamlines tax, customs, and shipping; enables banks to complete payment instantly and reduces auditing costs and default risk.
Anthem, a global insurance company using blockchain to accelerate some administrative processes.
Though several blockchain platforms have come up over the past few years, enterprises are adopting a few to fuel innovations. In this article, we will discuss the top 5 blockchains for 2022.
Top 5 blockchain platforms of 2022
Ethereum
Ethereum has been in the spotlight for a few years now and is going strong. It is the most widely adopted blockchain platform after Bitcoin.
Ethereum blockchain is a decentralized blockchain with a smart contract feature. It is powered by its native crypto Ether (ETH). Ethereum Virtual Machine (EVM) is one of the popular innovations of the Ethereum Blockchain. EVM is a software platform on which the Ethereum blockchain can be used to create decentralized applications or DApps.
Ethereum is described as a 'distributed state machine', which means it is a virtual machine that holds all Ethereum smart contracts and accounts. The concept of DeFi (decentralized finance) is also based on Ethereum.
Ethereum is being widely adopted by many industries and is being deployed in systems that require security, streamline transactions or processes. This blockchain is only going to rise further in the blockchain popularity chart.
Binance Smart Chain (BNB)
Binance smart chain is version 2.0 of the formerly known blockchain Binance Chain. Binance Chain was a decentralized blockchain but did not have the smart contract feature and robust programmability. Binance Smart Chain was created as an upgraded version of the Binance Chain.
Binance Smart Chain is an independent blockchain platform, and it works as a parallel blockchain to Binance Chain. It has a smart contract feature, and it is compatible with Ethereum Virtual Machine. Binance Smart Chain works on the native token BNB and has a block time of approximately 3 seconds. On BNB, validators receive transaction fees, and the consensus mechanism on this platform is PoS Authority or Proof of Staked Authority.
Polygon (MATIC)
Polygon or MATIC is a secondary scaling solution for Ethereum and works on top of the Ethereum blockchain network. Polygon aims at solving the existing issues of speed and cost within Ethereum. Polygon's software development kit enables the building of Ethereum Sidechains. These blockchains run parallel to the Ethereum Mainnet; however, they operate independently. There are various kinds of sidechains—Plasma Chains, zK-Rollups, and Optimistic Rollups. One of the reasons for Polygon's popularity is that it helps in scaling Ethereum, with lower transaction fees. Besides its low-infrastructure cost, Polygon allows faster transactions too.
EOS
EOS, also known as EOSIO, was launched in 2018 as an open-source project. EOS is considered to be an advanced blockchain platform with robust security. It has a consensus procedure that is based on proof-of-stake. The C++ programming syntax is used for smart contracts on EOS, which enables developers to create their ESIO networks and implement smart contracts on them. This feature makes EOS a developer-friendly blockchain. EOS is known to be one of the fastest blockchains around. The platform claims to conduct almost millions of transactions per second. The developer community loves EOS for building highly efficient DApps.
Cardano
Cardano, launched in 2015, has become one of the most popular blockchain platforms. It uses its native cryptocurrency ADA. The platform has achieved 100% decentralisation. It uses a variation of proof-of-stake known as Ouroboros Consensus as a consensus mechanism. The primary objective of this blockchain platform is to create fast and scale-out dApps. DApps on Cardano aim to improve monetary transactions via decentralisation. Also, in comparison to Ethereum, Cardano provides low-cost and sustainable operations. Cardano has been used for building Stable coins, NFT networks, lending protocols, and DEX. The applications of Cardano will further increase in the coming years.
Wrapping up
The space of Blockchain Technology will remain one of the hottest technology spaces to watch in 2022 and beyond. Beyond cryptocurrencies, Blockchain is finding multiple applications in multiple business functions and is set to revolutionise many industries. With increasing investments, ongoing innovations using blockchain, and a consistent improvement on various blockchain platforms, the technology is going to see an immense rise. Blockchain is going to be critical to building transparency and trust in various facets of business processes.
Start your cryptocurrency trending journey with Zebpay today.
Sources: