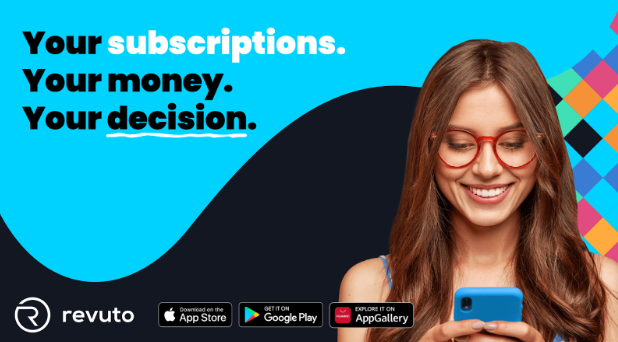 Revuto Interview Questions
How would you define Revuto's mission, and what makes it stand out in the web3 space?
Revuto is a fintech company offering an ecosystem of products removing friction between crypto liquidity and real-world economic activities, specifically subscription payments. In that regard, our mission is to save our users millions of dollars by allowing them to take control over what, when, and how they pay for their subscriptions. What stands out is that we use Web3 technology to provide easy-to-use but superior financial products leveraging blockchain and crypto to save people's money on their subscriptions.
Revuto's unique Block, Snooze, or Approve feature is designed to provide users with control over their subscription payments. Can you delve deeper into the user experience you aim to provide and the benefits of such a feature?
It's all pretty straightforward. The Block, Snooze, Approve feature is how you manage your subscriptions and control what you spend on them. In the Revuto app, you can add your subscriptions, even free trials, to get notifications about when payment for them is due. When you get these notifications, you can decide what to do with them – Block, Snooze, or Approve. This is all possible by using Revuto VDCs (Virtual Debit Cards) to subscribe to the service providers and pay for your subscription by topping up Revuto VDCs with FIAT or crypto. Still, an option to Snooze a payment is unique because it allows users to postpone it for a specific period. Revuto is crowdsourcing the information about what and for how long users are snoozing specific subscription payments to offer other users information for how long they can postpone the payment without being suspended from the service provider.
As a part of your services, Revuto offers Virtual Debit Cards. How does this integrate into the overall subscription management system, and how secure are these cards?
As we've explained, the Revuto Virtual Debit Card is our core product, differentiating us from other subscription tracking services. By topping up one of these cards and using it as a payment method, the user actively controls what money will be spent and when. We've probably all forgotten to cancel a subscription we stopped using for some reason or to unsubscribe from a free trial on time. With a Revuto Virtual Debit Card, you'll never have that problem again. Using Revuto VDCs to pay for subscriptions, the user gets privacy, control, and full protection against unwanted subscription charges.
Can you walk us through setting up an account with Revuto, from downloading the app to adding and managing subscriptions?
Sure! We released a series of videos that visually demonstrate better than a written overview of the process. You can find those videos on a playlist we've created on our YouTube account: https://www.youtube.com/playlist?list=PLnqKlhchWgBcAqi-hhR_T_YbO1a6CjxNk
You can download the Revuto app directly from Google Play, iOS App Store, and Huawei AppGallery.
Once you've downloaded the app, sign up for an account with your email address, and you'll get a magic link code via email to log in.
When registered, you can add subscriptions to manage, create a Revuto wallet, buy cryptocurrency, check out your NFTs, Staking Center, referral, and cashback rewards. Still, we need to mention that Revuto VDCs is something we plan to launch by the end of the year, which will kickstart the REVU token tokenomics and allow us to launch other web3 products like "Stake to Subscribe", "Micro-lending and borrowing" to pay for your subscriptions even if you don't have funds on a due date, "Subscription NFTs" and many more. For now, our most used product is Staking Center, where users can stake REVU and ADA to get the best staking rewards (up to 15% APR on ADA) in the ecosystem.
The app makes everything easy, and if you ever have questions, we've got support and social media admins to help you.
Revuto users can pay for their subscriptions with FIAT or crypto, including your Cardano native REVU tokens. Could you explain more about these payment options and the benefits they offer?
We give our users a choice when topping up and using Revuto Virtual Debit Cards. Some people prefer to use fiat; others use crypto. Allowing people to use crypto within the Revuto ecosystem and top-up Revuto VDCs with crypto, they can use DeFi and other web3 products (NFTs, staking) to pay less and earn money.
Given the sensitivity around financial data, how does Revuto ensure transparency and security in its transactions?
Revuto uses a non-custodial setup meaning users have complete control over their funds. Also, they can add a 2FA to protect themselves even further. Lastly, Revuto holds an EMI (e-money) license issued by the Bank of Lithuania, meaning we're a regulated business compliant with the latest regulatory requirements regarding AML, anti-fraud, and transaction monitoring.
The platform offers cashback and referral rewards in REVU tokens. Can you provide more details on this incentive program and how it adds value to the user's experience?
Revuto has a great referral program helping its users to earn (save) even more by inviting others to the Revuto app. By inviting friends to Revuto, the user can earn one-time rewards (at the moment, everybody can earn $9 per referred friend in REVU) and a passive income (a lifetime reward) in REVU whenever those referred users use Revuto to pay for something. You can calculate how much you can earn by visiting our website or via our Youtube video. Also, our Referral Program goes beyond the Revuto ecosystem. Recently we integrated with Altwin (a fully decentralized sports betting site where you can earn more REVU by betting on sports events), where users can also benefit from their referred friends if they bet with REVU. You can learn more about the REVU utility via our blog post and Youtube video.
Revuto's roadmap includes launching a "Top-up with crypto" feature later in the year. Can you share some insights on this feature and how it will improve the platform's offerings?
We currently offer to buy crypto with cards (REVU and ADA) directly in the Revuto app. Banxa powers this FIAT to crypto on-ramping service. Once we launch Revuto Virtual Debit Cards later in the year, users can top up these cards with crypto supported by the Revuto Wallet and offramp their Crypto back to FIAT when using VDCs to pay for something.
The concept of managing subscriptions through NFTs is quite unique. Can you explain how the NFT-based lifetime subscriptions work on Revuto and how this could redefine the concept of online subscriptions?
Revuto has one of the most unique use cases for NFT technology – Subscription NFTs. Those NFTs will allow users to pre-pay with Revuto for any service worldwide for any duration. Still, by offering those NFTs connected with specific subscriptions to others, the user can monetize any subscription period left connected to that NFT. In short, if you prepay with Revuto for ten months (your choice) of Netflix (your choice), after 3, 5, or 7 months (your choice), you can sell that NFT to somebody who will be able to use the remaining (already prepaid) subscription period with Netflix. You can learn more about how it works by watching this video from our CEO. With this product, the goal is to save people's money on their subscriptions further because 50% of people who prepay their services for more extended periods to get a discount to lose money because they only use those services in part.
To announce this incredible product, last year, we did a Revolution NFTs offering subscriptions to Netflix and Spotify for a lifetime. The feature will go live once our Virtual Debit Cards do. People can still buy those NFTs at https://revuto.com/nft.
What are the future plans for Revuto in terms of expanding its feature set, user base, and partnerships? What can users look forward to in the next couple of years?
Revuto is aiming to become a one-stop solution for all your subscriptions. Our extensive roadmap, full of unique products and features yet to launch, will help people save tons of money. After we launch VDCs, we plan to start issuing physical debit cards supporting DeFi and other Revuto features. Additionally, with the same setup, we'd love to tackle the market of paying for the utility bills. Still, whatever products we add, Revuto will always stay focused on solving real-world problems for regular people (not necessarily crypto-savvy) by inviting them to the world of web3 via an easy-to-use mobile app. At the moment, Revuto has more than 356k registered users who have created more than 63k non-custodial crypto wallets. Such big user base created in a relatively short period is our biggest strength, and that's why we invite you to join our community and help us build the greatest subscription management platform in the world.