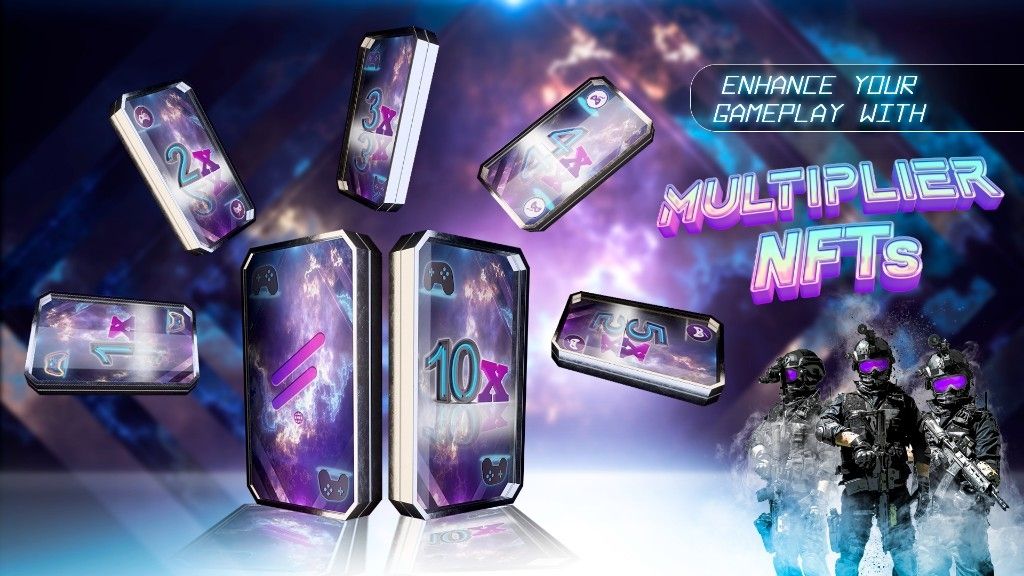 Fabwelt Revolutionizes Gaming with the Introduction of Multiplier NFTs and NFT Rental Features
Fabwelt is taking the gaming world by storm with its latest addition, Multiplier NFTs, and rental features. These new features allow players to not only earn more WELT during gameplay but also safely rent out their NFTs to scholars for additional revenue.
Players will be able to purchase Multiplier NFTs on the marketplace using $WELT. By connecting a wallet with a Multiplier NFT to a Fabwelt game, players can enjoy the benefits of a multiplied score, enhanced features, and increased earnings.
The Multiplier NFTs can also be safely rented out to scholars. We will shortly announce our partner for this! The owner of the NFT has the ability to set up options such as rental fee per day, maximum rental period, and revenue sharing percentage. The rental process is secure and safe, as the owner remains the owner of the NFT at all times.
This exciting new feature provides players with the opportunity to earn more through NFT rental. So, if you're a gamer, don't miss out on this opportunity to take your game to the next level and increase your earnings. Get your Multiplier NFTs now on market.fabwelt.com
The use of Multiplier NFTs is a game-changer for fans of Arsenal. The previous announcement of Seasons promises to be one of the most exciting yet, and the Multiplier NFTs will add a new dimension to the fan experience. As the official start date draws near, the excitement surrounding Arsenal continues to build and fans eagerly await the chance to show their support through these exclusive NFTs.
The concept of NFT rentals plays a significant role in reducing entry barriers and facilitating the widespread acceptance of Web3 games. This approach enables players to benefit directly and creates fresh economic opportunities for digital asset holders, developers, and players alike. With the reNFT protocol, NFT holders can leverage their assets by renting them out for use in blockchain gaming experiences, allowing more players to engage in the game without purchasing an NFT. This boosts game economies and helps to encourage the use of NFTs in gaming.
This is BIG! This is a big step forward to expanding services to our community.
Gaming Guilds are activated!
The community is ready to experience a multichain protocol and platform that will be integrated into all Fabwelt Studio-developed games to enable collateral-free in-house renting, lending, and scholarship automation!
The renting mechanism will begin with Multiplier NFTS.
At Fabwelt Studios, we believe that the integration of NFTs in web3 gaming will play a transformative role in shaping the future of the industry. Over the next five years, we anticipate the following key trends in NFTs and their impact on the everyday player experience:
1. Deeper integration: NFTs will become a core component of gaming experiences, allowing players to truly own their in-game assets. We're working to ensure our games offer seamless integration of NFTs, enabling players to trade, sell, and monetize their assets within our gaming ecosystem.
2. Cross-platform compatibility: As the metaverse concept gains traction, players will increasingly demand the ability to use their NFTs across different games and platforms. Fabwelt Studios is exploring partnerships with other developers and platforms to enable cross-platform compatibility and unlock the full potential of NFTs.
3. Enhanced utility: NFTs will evolve beyond just digital collectibles and art, becoming integral to gameplay mechanics, social interactions, and content creation. Our team is dedicated to researching and implementing innovative ways to enhance NFT utility and provide unique experiences for our players.
4. Real-world connections: The line between virtual and real worlds will blur as NFTs facilitate tangible rewards and experiences for players. Fabwelt Studios is actively exploring opportunities to bridge this gap, creating meaningful connections between in-game achievements and real-world rewards.
5. Mainstream adoption: As NFTs and web3 gaming become more widely understood and adopted, they will permeate various aspects of daily life. We're focused on designing user-friendly and accessible experiences that encourage new users to explore web3 gaming and embrace the possibilities of NFTs.
Fabwelt Studios is committed to staying ahead of these trends and adapting our strategies accordingly. Our vision is to create immersive, entertaining, and rewarding gaming experiences that leverage the full potential of NFTs and blockchain technology, ultimately reshaping the landscape of the gaming industry.
About Fabwelt
Fabwelt is a ground-breaking concept that integrates blockchain technology into the heart of high-quality games of all types and genres. With in-game NFTs, Play to Earn, and DEFI, we create a high-end gaming ecosystem and enhance the fun. A multi-genre gaming ecosystem that includes genres such as 3D First-Person Shooter, Action-Adventure, Simulation, Strategy, Fantasy, and many others. In-game NFTs as assets, collectibles, and strategic utilities resurrect the fun of Blockchain gaming.
We incorporate all of our games into a never-before-seen digital reality. This is referred to as the Gamingverse. We provide the technology to have never-ending fun with features like Universal NFTs, digital cross-game identification, and multi-tiered tournaments, which are powered by gamers.
We invite you to:
Join the Fabwelt Discord, where you can meet and engage with Welties in the community.
Come and play Arsenal with the community.
DM us — our team is eager to help your ideas and initiatives come to life.