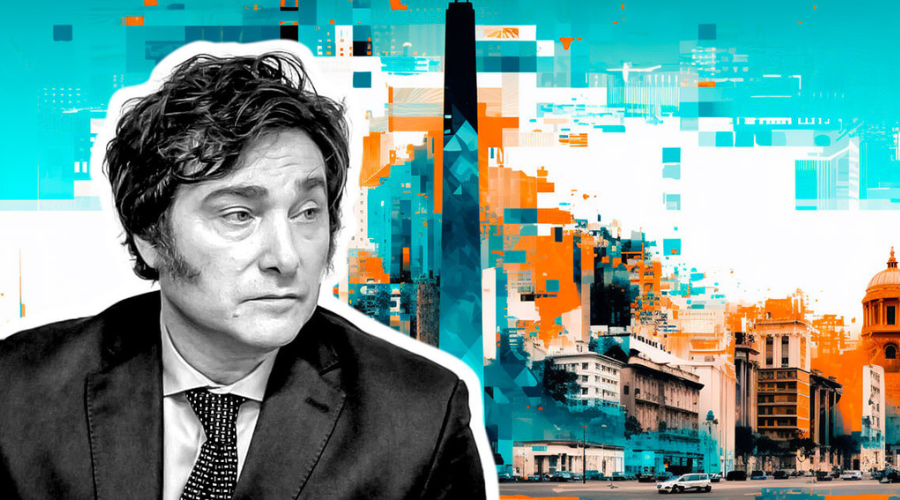 Argentine Presidential Candidate Urged to Embrace Bitcoin
An Argentine lawyer advises a presidential candidate to consider adopting Bitcoin instead of dollarization for the country's economy.
Important Points
Argentine lawyer advises presidential candidate to consider Bitcoin adoption instead of dollarizing the economy.
Lawyer argues that Bitcoin is a voluntary currency, unlike the imposed and controlled US dollar.
Political landscape in Argentina sees right-wing candidate Milei advocating for dollarization.
Growing support for Bitcoin adoption in Argentina as politicians and citizens express interest in cryptocurrencies amidst hyperinflation and IMF loan negotiations.
A prominent Argentine lawyer has advised a leading presidential candidate to reconsider his plans for dollarizing the economy and instead focus on adopting Bitcoin (BTC). The lawyer, Carlos Maslatón, made the comments in response to Javier Milei, a right-wing political leader who has been vocal about his support for Bitcoin in the past.
Milei's manifesto includes a proposal to dollarize the Argentine economy, which has been grappling with hyperinflation for years. While Milei is not the only politician in the country advocating for dollarization, he has become one of the loudest proponents of adopting the USD.
Good to see!

Jevier Milei: Argentina's 🇦🇷 Pro #Bitcoin presidential candidate destroys a central bank pinata on national TV.

What a show🧡

Healthy hate against central banks 🙌

— Robin Seyr (@RobinSeyr) May 1, 2023
Bitcoin as the Voluntary Currency
Maslatón, a BTC advocate himself, took to Twitter to express his disagreement with Milei's dollarization plans. He argued that the dollar is imposed by force and controlled by the North American state, while Bitcoin is the only voluntary currency in circulation. Maslatón has been advocating for BTC since 2013 and criticized Milei for being pro-paper money.
In his tweet, Maslatón wrote: "The only voluntary currency in circulation is Bitcoin, which I have been talking to you about since 2013. But you could never understand [BTC], as you are pro-paper money."
Political Landscape in Argentina
Milei, who enjoys a support rate of around 18%, is currently behind the front-running candidate Sergio Massa. Recent opinion polls suggest that Milei has some catching up to do to secure victory in the presidential race.
Maslatón attempted to run as a candidate for the La Libertad Avanza alliance but failed to gain party approval. His comments on Twitter drew various responses, with one observer suggesting that Argentina should explore launching an innovative gold-backed cryptocurrency.
Growing Support for Bitcoin Adoption
The debate over Bitcoin versus traditional fiat currency continues to gain traction in Argentina. Milei's comments criticizing the Argentine peso as legal tender led to a response from Maslatón, who argued that the peso's status favors political thieves.
Several other Argentine politicians have also expressed support for Bitcoin adoption. Martin Tetaz, a lawmaker in Buenos Aires, recently suggested that citizens should consider keeping their savings in BTC instead of USD or pesos.
Crypto Regulations Amid IMF Loan Negotiations
The Argentine government has been seeking a new loan from the International Monetary Fund (IMF), prompting them to expedite cryptocurrency regulations. This move comes as crypto adoption in the country continues to rise, with more Argentinians choosing to receive their pay in cryptocurrencies.
As the presidential race in Argentina intensifies, the debate between fiat and Bitcoin adoption is expected to remain a prominent theme.